A Home for Healing the Hurt
Background
Rina Malan was running her own nursery school, several business ventures and running place of safety on a part time basis for many years. She realized that in order to make a significant difference she would have to run it full time. She then started AMADEA SAFE HOUSE, meaning "Loving Child of God".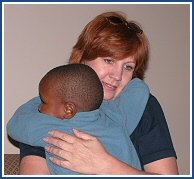 Today,
Amadea stands proud – and true to its aim of providing a safe and loving Christian environment, in which children can develop into well-balanced adults.
Our Focus is to help Children in need: Abandoned, neglected, abused (sexually, emotionally and physically) disabled and HIV / AIDS affected/infected children who are placed in the care of the Malan's by the Juvenile Court's until their cases has been finalized. Some children are with them for more than 14 years.
They work closely together with all the social welfare organizations and SAPD in Pretoria and surrounding areas. The Amadea house is situated on a small holding and is being used as a facility accommodating children full time in a loving family environment. They focus on early childhood development, health care and skills development for the older children.
Our Vision
To provide a loving and safe haven for abandoned, abused, neglected and disabled children -of which some are affected or infected by HIV/AIDS and assisting in feeding the underprivileged in the community. To empower women in the area to become self sustaining by teaching them income generating skills. Currently we are empowering our teenagers with income generating skills.
NEW INTAKES FROM BABIES UP TO 5 YEARS ONLY.
THE HOME IS NPO AND PBO REGISTERED